The Three Stooges short "Idiots Deluxe" (1945) an agitated Moe exclaiming "Oh, my nerves!" is what I had in mind before the first week of school started. To take the sting out of summer ending I was treated to issue #332 of "Uncle Scrooge" and had a sleepover with Ian after he came back from Invermere.
When Ian had left I viewed 5: 15, a season six episode of "THAT '70s SHOW". I admired the cockiness Eric displayed fighting Mitch (Seth Green).
The cover of "Uncle Scrooge" #332 with the stars twinkling in the background was beautiful.
The nights leading to the orientation when sleep would tend to elude me I read "Uncle Scrooge" #332 which led by Don Rosa's "The Sharpie of Celubra Cut". I read the story as I listened to "CD-Festival Dream With Me". One track, in particular, Agnetha Faltskog's song "Wrap Your Arms Around Me" with the crickets chirping in the background complemented the nighttime ambiance of the story.
Upon seeing the map of F.E. Osborne it reminded me of the blueprints for the money-bin drawn by Don Rosa for "The Beagle Boys Vs. The Money Bin" (US #325).
Next day during the orientation, we were learning how to open a combination lock. I pretended as if I was one of the Beagle Boys in learning how to unlock it. I was ever so glad to get out of there and resume the mere remainder of my summer vacation. Later that evening I wrote my father a detailed letter about my experience as a safecracker, the Panama Canal, and topped it off with a Carl Barks reference. Whenever I was anxious, nothing would put my mind at ease - but the Disney Ducks. It was the world where I could temporarily escape, and come back ready to face my problems. When I read a tale by Unca Carl or the other talented Disney artists, I felt as if I embarked upon the journey with the five ducks. I mentally heard the voices of Scrooge, Donald, the nephews, and the others.
In order to alleviate my anxieties about the first day of school my mom took me to "Comic-Kazi". I saw issue "Uncle Scrooge" #228 on the spinning rack. What attracted me was the purple cover; it fit with the somber weather of that day. The menacing appearance of Magic De Spell striking her wand, at Scrooge and Donald was cool. Could it have been an omen for what was to have come? Nah! Don Rosa's story "Forget It" was a lighthearted story, about Magica De Spell forgetting spell. William Van Horn's tale "The Bedeviled Dime" was filled with good humor, story, and art.

I loved the wild expressions William Van Horn would draw. Initially, I thought his depictions of the Ducks were weird, but his artwork grew over me. The dime fluctuating in size provided many gags. I could not get enough of the slash panel William Van Horn drew of a giant Magica holding Scrooge's dime. A favorite line that I occasionally quote the later part of was when Scrooge exclaimed to Magica: "So what? The dime is inside my money bin now! And in here it's safer than a hamburger at a vegetarian picnic!" The "square" style Van Horn drew Scrooge's whiskers, gritting of his teeth and vengeful gleam in his eye was a good example of how the dialogue matched the art perfectly.
I remember sampling the contents of issue #333 when it was on the latest releases shelf. I perused the letter column and I was struck by the contribution of one individual that I said to myself "Hey this letter looks awfully familiar." I looked at who the author was... turned out it was by yours truly. Then I nonchalantly put the issue back then I instantaneously looked back on the inside back cover to verify that my name in the lower-left corner. I could not believe it! My eagerness to show my mom the issue once she entered the store was at an all-time high. I was grateful to god for an unexpected surprise at a time when I was anxious about the first day of school.
I would call it a "three-mendous" issue! One of my dreams was to publish a story in the same issue as the "Duck Man"; It was a letter but close enough! I had aspirations of writing and drawing my own "Uncle Scrooge" adventure as Don Rosa did. It was fun fantasizing about what plots would serve for a Donald or Scrooge story. The artists that stood out from this issue were:
Wanda Gattino's "The Polar Princess" where Uncle Scrooge excluded Donald from participating in his latest cruise business venture. Donald stowed away in the sea grabber that was brought onto the lower deck of the ocean liner. It was ingenious of how Donald tied the submarine the Beagles came aboard on, in order to increase the icebreaking capability of the Polar Princess. For a change, it was nice seeing Donald's contribution being successful rather than it back-firing. Wanda Gattino artistic style unmistakably looked like his mentor Daniel Branca.
Carl Barks' ten-pager "Billions To Sneeze At", from the first panel I identified with Donald's insomnia. When I was flipping through the story at the shop I was dismayed by the ending of Donald being in bigger debt than before, on account of loaning out Uncle Scrooge's entire fortune.
My preference was for a happy ending where Donald came up up the winner rather than a loser. Unca Carl's philosophy "nothing is always going to turn out roses," that he instills in the stories is why I gravitate to his work. In later years I applaud Barks' choice for the Ducks experience a realistic outcome where it is not usually cheerful. It is appropriate to life where not every experience plays out the way we want it to. We see a lot of ourselves in the characters, as a result, there is an aspect of us wanting them to come out on top rather than endure turmoil.

Romano Scarpa's creation, Brigitta McBridge a significant other for Mr. McDuck appeared in the final story "One With The Wind". Brigitta McBridge with her fancy hairstyle is charming, saucy, and smart as a whip. Her comical perseverance and Scrooge's vehement rebuffs are a part of this ducky dynamic. It is sweet to see towards the end of the story he slightly relents.
I vividly recall how I groggily got ready that Monday, September 7th. I took an ice cold shower to freshen up my system. As I headed to F.E.O the somber skies that loomed over the building confirmed my foreboding perceptions about the first day of school. The grade seven students assembled into the library, my mind was at ease seeing the Marion Carson Elementary alumni. I was glad meeting Ian and Spencer, although it was not long since we had seen each other. One by one - we were separated into our homerooms. I felt tremendous trepidation once Ian and Spencer had left. I could not help myself from depicting my fellow students as wolves, who in my hour of weakness would shred every piece of my identity. It was from Scrooge McDuck that I became of these "wolves" in the DUCKTALES episode, "Wrongway in Wronguay". It felt as if a year had elapsed between the time our principal, Mr.Doyle announced my name, and which homeroom I was to be designated into. I deeply prayed to god that I would be in the homeroom that my friends were in. I wanted a source of comfort in adjusting to a new environment. When Mr. Doyle said I was in 7E, the class where my friends were in, I let out a huge sigh of relief. I eagerly look forward to following my friends. Our homeroom teacher Mrs. Ferguson, who taught us Science and Math, infused each lesson with a burst of enthusiasm that I sprung towards.
Uncle Scrooge not recalling his combination triggered my apprehension of lockers. - Carl Barks' "The Pixilated Parrot" (OS282) Nerts has become a part of my lexicon all due to the Duck Man.
One of my fears that day was forgetting my locker combination. Immediately I recalled how in "The Pixilated Parrot" (1950), Uncle Scrooge was constantly forgetting the combination to his vault. My method of remembering the locker combination was simple - assigning each number with an issue of "Uncle Scrooge". I was very thankful that by a series of flukes I could open it by myself. Who could tell when the terrible Beagle Boys or sorceress Magica De Spell was ready to invade my locker!
Early on we all hung out during lunchtime. Before Ian went home for lunch and Spencer would talk to the other classmates. I was thrilled to open my can of 7-Up with Homer on it. I was glad to see The Simpsons on a food item. Boy, were we all glad when Friday arrived! As our classes started an hour late, it was fun to sleep in.
How excited I was when the THAT '70s SHOW seventh season premiere, "Time Is On My Side" aired on September 8th.
While looking for the engagement ring to help fund Eric's year off, Donna reveals that she threw it off the water tower, so they set out to find it,

New episodes of THAT '70s SHOW would be simulcast on Wednesdays at 10: OO PM- FOX (Channel 22) and Global (Channel 7).
In science class, we were starting our ecology unit. I found it fascinating about studying the types of symbiotic relationships. Upon seeing tape-worm listed as an example of parasitism that reminded me of the reference in the Three Stooges short, BEER BARREL POLECATS (1946), when Curly asked what he wants to eat, he answers: "Burnt toast and a rotten egg". Of course, he is quizzed on those disgusting choices. "Whatta ya want that for?" Curly replies: "I got a tapeworm and that's good enough for 'im!"
As it was the first assignment of the semester I wanted to complete it to the best of my ability. On the blank paper, I drew out the lines so when I wrote a sentence it wouldn't look crooked. I wrote the information in pencil that way I could proofread the grammatical errors I would make. When it was ready I rewrote it in pen to professionalize it.
Watching, "The Keg", an episode of THAT '70s SHOW was my treat for having made good progress on the assignment. The beginning of the episode with Eric and his girlfriend Donna feeling class was dragging on mirrored my experience of morning classes. I was one who would play it safe. So it was thrilling seeing Eric as the one who was reckless.
Before class started a classmate asked me if I completed the homework. I proudly opened the front pocket of my binder to reveal what was supposed to have been my brochure on symbiotic relationships only to discover it was not there. I was reminded of how Donald in Barks' ten-pagers would act arrogantly about mastering a profession only to humiliate himself.I was panic-stricken when I couldn't find it, I immediately started scurrying in my binder to see where it could be. When Mrs. Ferguson asked for us to hand in our assignment, I was still panic-stricken about not
I was gratified that Mrs. Ferguson was understandable about the matter, she allowed me to submit the assignment the next day without docking marks. When I came home I immediately checked where it was, to find of all places it was on top of the vent. Since then when I completed an assignment I was ever so cautious ensuring it was in my binder.
On Thursday, September 16th in Language Arts, we were drawing cards informing about "Meet The Teacher Pancake Breakfast". Pancakes always remind me of the opening scene in "Healthy, Wealthy, and Dumb", a Three Stooges short, where Moe and Larry were playing poker with mini-pancakes instead of chips. Who could not forget the scene where Moe and Curly mixed the sticky glue and maple syrup.
I was jubilant about how I conceived of a drawing of Donald Duck using a frying pan, flipping a pancake onto a plate. A sketch in the spirit of the comic book covers. Ian and Spencer told me how I had plagiarized the concept from THE SIMPSONS episode, "The Old Man and The C Student". One of Homer's schemes of unloading his springs surplus was attaching it to a frying pan, and flipping a burger onto a plate. I exclaimed "Oh yeah!" as I recalled that scene. We laughed at how he attached springs to his daughter Maggie and dribbling her like a basketball.
Over the weekend our assignment for Language Arts was to compose a drawing for my dossier, I struck several panels from Carl Barks' stories.
On Monday, September 20th I received a backlog of science questions, to be handed in the next day. I stood up late until I could the questions. I woke up early that morning, in order to finish the remaining task, which was to draw two human footprints and list environmentally friendly activities and on the other side tasks that were harmful to the environment. I was inspired to draw what else would come to mind… a duck print. The next step was to compile a list of actions that were hazardous to the environment. Littering, leaving the lights on for an extended period, etc were the common ones that came to mind. Out of desperation, I recalled the "Hewy, Dewy, Louie Junior Woodchucks" tales that Carl Barks scripted, which focused on environmental issues. I referred to issues of "Walt Disney Comics and Stories" that printed those stories. Clearing forests in order to build factories ("Peril Of The Black Forest"), polluting lakes ("Looters Of The Lake"), whaling (Whaling Whalers) were the examples I jotted. Fee-yew! I was relieved that I completed most of the assignment before it was time to get ready for school. It was a treat when I could interweave my love for the ducks in my school assignments.
Friday, October 8th was the start of the Thanksgiving long weekend, I was disappointed that my father was not there. For the past year, I would rest my head on a small pillow, that had Donald Duck on one side and Hewy, Dewy, and Louie on the reverse side. I adored the design and the expressions of the pillow. It was slowly starting to come apart from the bottom. My mom had devised a plan for creating our own pillow over the Thanksgiving long weekend. I found the images that I liked on a pillow, transferred them to a CD, and gave the CD to an associate at "London Drugs". Unfortunately, the images were copyrighted. We purchased paper that transferred onto fabric. I was on the edge of excitement when the iron was over the pictures I printed. My mother took a picture of the final product to send to my father.
The many interests in my life around this time were displayed in my room. On my bedside table is Gemstone's line of "Uncle Scrooge" comics.
The final surprise occurred later that evening, when I was in my room, going through my homework, my sister called me downstairs: I quickly raced upstairs to record it. It was very thrilling to watch "Scrooge McDuck and Money"; I had seen stills of the cartoon, which accompanied Barks' forward in Abbeville Press' anthology of Scrooge stories. I was puzzled at how the images did not correlate to what Mr. Barks wrote about. It was jarring hearing Bill son performing Scrooge, with a dry Scottish accent in comparison to Alan Young's energetic voice.
I assumed that the money in Uncle Scrooge's bin stayed in there, but he explained how the money in his vault moves in and out each day. For some unexplainable reason, I thought that it contradicted with Carl Barks' version of the character. I watched it over the past few days that I memorized the songs about budgeting and investing a $1.95. The lesson of investing was conveyed in a very entertaining manner. One graphic of Scrooge comparing your income to a pie, with each slice representing the expenditures was a helpful explanation of budgeting. It was ironic that in math class when we were studying fractions, my teacher Mrs. Ferguson drew a pie. I sang the first line, "You have to pay the rent" while the classmates gave me a queer look.
The graphic representing the numerous expenditures that we deal with in our life stood out.
Student Teacher Parent Conferences took place on October 22. I was anxious about what Mrs. Ferguson had to say about my performance, but much to my delight she said many delightful comments. I reciprocated with many compliments about her teaching. Although it was a casual setting I couldn't help but be slightly shy in front of my mom. Not even being assigned homework didn't dampen my spirits as we had another long weekend. I managed, as usual, to postpone my assignments until Sunday. It was a complete surprise that day as a Three Stooges marathon occurred.
I had a bowl of Lay's BBQ potato as I tuned into pie-fight of In The Sweet Pie and Pie" (1941). My favorite part was Curly getting pied repeatedly while trying to throw a pie at someone. My insides were hurting as I saw pie after pie being propelled. I was well rested to continue with the remainder of my homework. Then I had a conversation with my father. I excitedly told him of the Three Stooges marathon. I told him that "In The Sweet Pie and Pie" aired. We exchanged the moments of the short we enjoyed. Despite being far from each other it was heartening that we could talk about our interests. After I talked to him I piled through my homework.
The marathon concluded with "Half-Wits Holiday" (1947), Curly's last tenure as a Stooge. Knowing that Curly suffered a stroke prior to the massive pie melee being started, makes viewing it bitter-sweet. In between the end of the first act, a fitting tribute to him, a montage of his best moments. I extremely was moved by it that I transferred the audio to a cassette. See if you can recognize the shorts where the sounds come from? I can provide an answer.
No star shined brighter than Curly's.
Wednesday, November 17, I completed a worksheet for Language Arts on commas. Then it was my time for my ritual where I would go downstairs and watch THAT '70s SHOW. I would sit on the arm of the green sofa, near the tv and have the volume on low as it would not disturb my mom sleeping. The episode, "Angie", featured throwbacks to previous episodes, among them: Fez roller-skating with Jackie, the dissolution of Jackie and Kelso's relationship, and Hyde talking about his days as an orphan made for good continuity. I thought it showed how the writers maintained continuity throughout the series. and the character's evolution throughout the six seasons.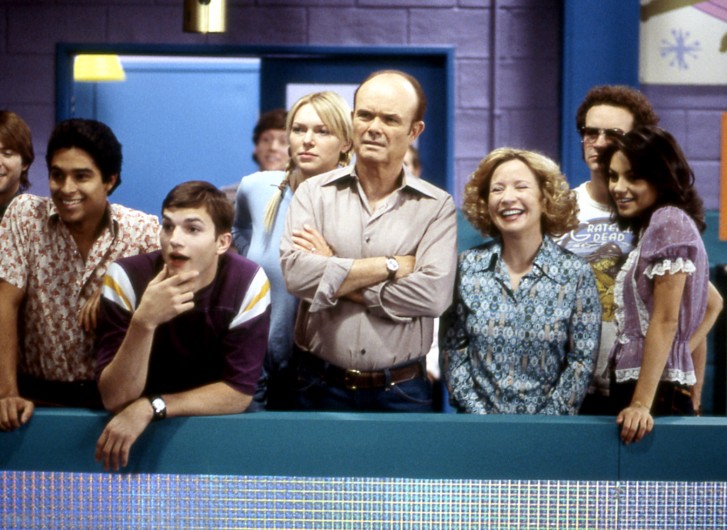 The moves Eric made at the roller disco to Chic's "Le Freak" was well executed. Eric's horrified expression upon discovering his friends and parents were watching was unforgettable. Eric fell backward and Red, his father commented, "Nice shorts Rainbow" ended the scene perfectly. A transition sequence with a snippet of ABBA 's "Knowing Me Knowing You" worked well. It brought back fond memories as it was on my father's mixtape. The following day before class started Spencer had brought up the episode. I bought up my favorite scenes notably Eric dancing and later when Eric entered the kitchen Kelso announced, "It's Rainbow!"'
Later that week I received an email from my father telling me about how during his layover he had purchased for me three Disney VCD's: "Fun and Fancy-Free", "Hewy, Dewy, and Louie's Greatest Hits", and "Chef Donald". Wow! I could hardly wait until when I would see him and view those VCDs. When I talked to my dad on MSN Messenger, he told me of the contents of the later VCD. I mentioned that he forgot to list "Donald Duck and The Gorilla" (1945). Then I showed him a website where I got the details from. I told him about the latest annual from Gemstone - "Christmas Parade #2".